It's The Story of a New Local Favorite Bar feat. December's Marina Cash Lunch Mob and The General Sports Bar
Several of us were supposed to meet met for lunch at The General Sports Bar with cash in hand and "Marina Pride" in our hearts.
We were supposed to meet at The General, located inside Dametra's fresh Mediterranean restaurant, but the bar was already quite full!
Now, that's always a good problem to have in business!
In fact, we decided to sit at the tables inside Dametra's and enjoy the beautiful Christmas tree they put up and witness the flow of customers coming in and leaving with a smile on their faces.
Board members and Friday Cash Lunch Mob "groupies" all sat close by to get a chance to connect over a fresh meal.
These lunch events continue to be a favorite among locals!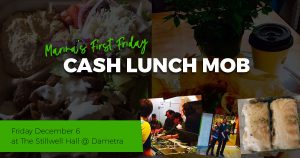 Building Community in Marina
The lunch events we have been organizing in 2019 are low-key occasions to network and chat with friends; one simply needs to show up with cash on hand and the desire to engage with members of the community. In the past we've hosted board members, chamber members, business owners, non-profit leader and volunteers and retirees who were just happy to have a new excuse to meet with friends.
We usually share memories, recommendations, what's going on in the community, events that took place recently and how they turned out. There is always lot's of laughing, sharing and caring.
Many people have never tried the restaurants we choose and several business have gained new customers. We also help give the local businesses a little boost in cash just before the weekend. We have had up to 15+ people show up at times.
This was not my first time at Dametra's or The General. I love their Wednesday specials at the bar and their yummy falafels. Their vegetarian, vegan and gluten-free options are well indicated on the menu, making my life a lot easier when it comes to choosing a meal.
About Dametra and The General
Ranked #1 restaurant in Carmel by TripAdvisor and #12 on Yelp's Top 100 Places to Eat in the US for 2016, Dametra has been a local favorite for many years. Bashar Sneeh and Faisel Nimri, both immigrants from Middle Eastern border towns, met in California and immediately connected over a shared love of culture, good food, music and people. This connection eventually led to them creating Dametra Cafe in 2008. More recently, they have expanded on the success of Dametra Cafe and have launched Dametra (also known as Dametra Fresh Mediterranean).
Dametra stays true to their original values and offers a menu in keeping with the proven health benefits of a Mediterranean diet.
Their lates addition to the Dametra family is Marina's restaurant, along with sports bar The General, which have been successful since their inception. Their historic sports bar showcases veterans memorabilia where you can enjoy sitting by an original bar top from Fort Ord's famous Stilwell Hall!
The General's full bar offers great selections of beer and wine, or you can enjoy your favorite mixed drinks prepared by their talented bartenders.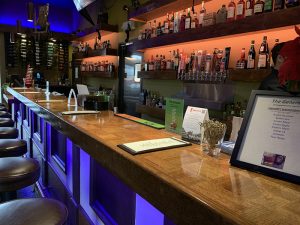 What is the First Friday Cash Lunch Mob?
We call it the First Friday Cash Lunch Mob because once a month, we encourage as many people as possible, to hit up a local restaurant to show our support and pay with cash to help the owners save on credit card processing fee's.
Although we encourage everyone to pay cash whenever possible every day of the month, when we gather in a large crowd like this, it has certain advantages.
Socializing, networking, and making new friends.
Other customers get to see a packed house.
A full parking lot for passers-by to see.
It encourages awareness to some of our great hidden treasures, and popular local favorites.
If you have ever worked in the industry, you know how tough it can be for both the employees, and the employers. Getting into the restaurant business is not for the faint of heart.
Our local restaurants work hard to serve our community week in and week out and this is a nice way to say thank you.
#meetmeinmarina
If you are on Instagram, be sure to follow us at our brand new Instagram account instagram.com/marina.chamber and be sure to use the hashtag #meetmeinmarina when posting anything about Marina.
We have added an Instagram feed to our homepage so that we can all celebrate all the wonderful things in this community together. In addition, it will help to share with the world, what we all love best about Marina.
The following two tabs change content below.
Elizabeth Plante
I'm a freshly immigrated Canadian passionate about both physical activity and the outdoors, and where's a better place to pursue those interests than alongside the Monterey Bay coastline? My company Monterey Bay Moves was influenced by my own Canadian experience of fitness, and I engineered our services to be close to the community and its surrounding nature. With Monterey Bay Moves it was never just about bringing a workout to those in need — it was also about developing a concept of unique outdoor training programs that would let us make the most of our unique area. I serve on the board of the Marina Chamber of Commerce as Vice-President and on the Monterey Peninsula Chamber of Commerce's Economic Vitality Committee.
Latest posts by Elizabeth Plante (see all)