February's "First Friday Cash Lunch Mob" is at Las Cazuelas Taqueria in Marina
February 7 @ 12:00 pm

-

1:00 pm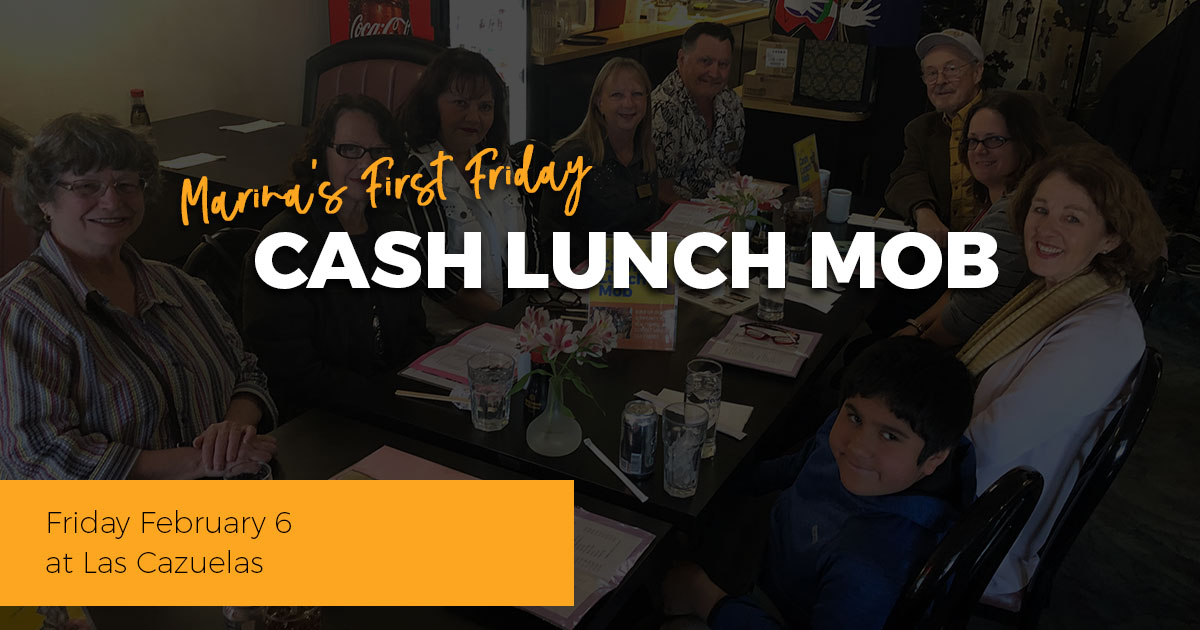 February's "First Friday Cash Lunch Mob" is at Las Cazuelas Taqueria in Marina
Join us on Friday February 7th, for our First Friday of the month Cash Lunch Mob at Las Cazuelas Taqueria in Marina. Simply show up and help us infuse some cash into our local business community.
Join us for an informal lunch between 12pm – 1:00pm (stop in any time). There will not be any agenda, or formalities, just connecting with local business professionals and community members. This is a great way to build up our community, make new friends, and make time to connect with old friends.
Participating tables will have a Marina Chamber of Commerce Cash Lunch Mob card so that you will know who is there for the event and you can simply join their table.
What is the First Friday Cash Lunch Mob?
The idea is to a pick a local restaurant to gather at on the first Friday of each month.
We encourage people to pay with cash to help the local business make a little extra cash before the busy weekend. Our local restaurants work hard to serve our community and this is a nice way to say thanks.
The venues will change each month and anyone can help organize the events. Just reach out to us via our contact page.
#meetmeinmarina
If you are on Instagram, be sure to follow us at our brand new Instagram account @marinachamberofcommerce and be sure to use the hashtag #meetmeinmarina when posting anything about Marina.
We have adding an Instagram feed to our homepage so that we can all celebrate all the wonderful things in this community together. In addition, it will help to share with the world, what we all love best about Marina.