Learn at Lunch: Learn How The Marina Chamber of Commerce is Helping Local Businesses Reach New Audiences Outside of Marina.
August 16 @ 12:00 pm

-

1:00 pm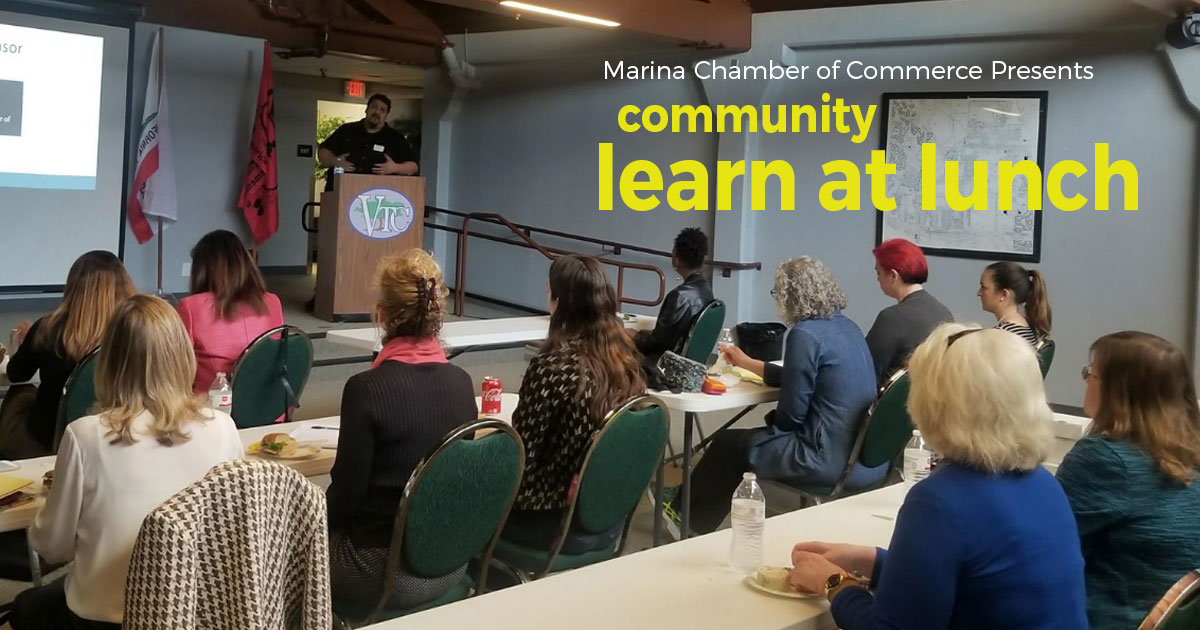 On Friday, August 16th, the Marina Chamber of Commerce will hold a business lunch forum for individuals and businesses at 220 12th St, Martinez Hall, Marina.
A light lunch will be provided and sponsored by the Marina Chamber of Commerce. The facility is provided by the kind folks at The Veterans Transition Center of Monterey County.
Every Chamber of Commerce Needs a Smart Digital Marketing Strategy
It is my belief that one of the greatest benefits a local chamber of commerce can offer its members & community, is a smart website platform and content marketing strategy.
Encourage & Increase Tourism: Take Advantage of Surrounding Communities
The Monterey Bay is a global travel destination location with people from all over the world visiting Monterey and Santa Cruz. Marina is a tiny little beach community in between these two locations, and it has a lot of great characteristics that the others do not have.
We are a quiet beach town just minutes away from both Monterey and Santa Cruz, with many moderately priced hotels, quiet/peaceful nights, great year round weather, and enough great international restaurants to wow any international foodie wanderluster.
Our goal was to capitalize on international tourists who are setting up their vacation itineraries via research on the web. We adopted a website slogan that says "Visit Monterey Bay, Stay in Marina". We want people searching for things to do in Monterey or Santa Cruz, to find articles from our website, ranking on page one in Google Search results.
Make It About the Community & It's Businesses
Most chamber of commerce websites are all about themselves. They inform the visitor about who they are and what they do. I think they are missing out on a great opportunity to help their community, and chamber members get the most out of their online presence.
I proposed to the Marina Chamber of Commerce that we need to make a major shift in our website purpose by changing it from an informational website about the chamber, to a travel destination website that would target people searching for things to do in the Monterey Bay.
The goal was to attract website visitors looking for businesses, restaurants, non-profits, service providers, and things to do within the local, and neighboring communities. This way we could offer chamber members premium online exposure to a whole new audience and potential new customer base.
New Chamber Website Goals, New Chamber Website Features
With this new goal set in place, we had to implement several new features and strategies. These changes included an improved Community Business Directory, new Community Event Calendar, new Community Announcements Blog, and more.
During this forum, we will show you just how far reaching our website has become, and how you too can take advantage & contribute to this new amazing community resource.
We will walk you through the steps of adding community events, community announcements, updating your business listing in our business directory, and more.
Come on out and enjoy an opportunity to connect with other local business owners and see how you can help your own business get more online exposure and customers.
Sincerely,
Geno Quiroz