Monterey Chamber's 16th Annual Leadership Luncheon
September 20, 2017 @ 11:30 am

-

1:30 pm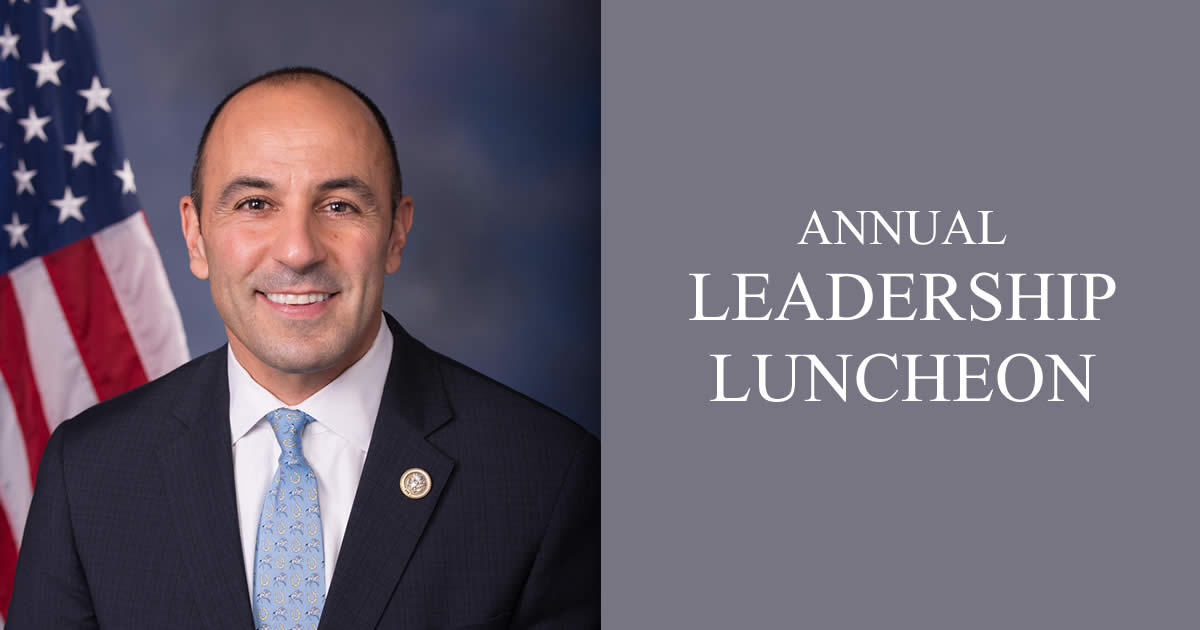 Congressman Jimmy Panetta and others to join panel at Monterey Chamber's 16th Annual Leadership Luncheon to be held on Wednesday, September 20, 2017
MONTEREY, CA, August 31, 2017 – Don't miss this very informative, annual briefing session for all community members! Congressman Jimmy Panetta will join the distinguished panel of local, state, and federal elected officials speaking at the Monterey Peninsula Chamber of Commerce's Annual Leadership Luncheon on Wednesday, September 20, 2017 from, 11:30am to 1:30pm, at the Embassy Suites by Hilton Monterey Bay – Seaside, 1441 Canyon del Rey in Seaside.
Sponsored by Rabobank, this signature Chamber event gives community leaders, local business owners, and engaged citizens an opportunity to gain further insight into the current business climate on the Peninsula. Panelists will give briefs on topics such as new projects taking place in their jurisdictions, new business coming to the region, and other important issues that have impact on the future viability of our local economy.
"The Leadership Luncheon is an essential event to attend for all business and community leaders," according to Jody Hansen, MPCC President and CEO. "This popular annual forum offers a unique opportunity to hear frank commentary on the state of the greater Monterey region from elected officials in the know."
CONFIRMED PANELISTS INCLUDE:
Presented by RABOBANK, N.A., the 2017 Leadership Luncheon will feature Congressman Jimmy Panetta as our keynote speaker. He'll be joined by other distinguished panelists from our local delegation: California State Senator Bill Monning, California Assemblymember Mark Stone, Monterey County Supervisor Mary Adams, Monterey County Supervisor John Phillips, Monterey County Sheriff Steve Bernal, Del Rey Oaks Mayor Jerry Edelen, Marina Mayor Bruce Delgado, Pacific Grove Mayor Bill Kampe, Salinas Mayor Joe Gunter, Sand City Mayor Mary Ann Carbone, Seaside Mayor Ralph Rubio, and Monterey City Councilmember Dan Albert. Hear the latest news on what's happening in the greater Monterey region and beyond.
Leadership Luncheon tickets are $50 for members and $60 for non-members. A member table for 10 people is $500.
To register, visit www.montereychamber.com/events or call 831.648.5350.
Affordable sponsorship opportunities are still available. Call 831.648.5350 for more information.
MPCC hosts public policy forums, such as the Leadership Luncheon, for its members and the community to keep them informed of important issues pertaining to the business community. The mission of the MPCC Government Affairs Committee (GAC) is to provide a platform for the Chamber to act on local, state and federal government issues and have a positive relationship with its elected officials thus creating a favorable and profitable business environment.
The goal of the Monterey Peninsula Chamber of Commerce is to create a strong local economy by promoting the community, creating networking opportunities, representing the interests of business with government, and taking political action. To learn more, visit www.montereychamber.com or call 831.648.5350.