What Is The Value Of Marina Real Estate?
As a resident of Marina myself since 1992 I am always interested in knowing what the current landscape of the Marina real estate market looks like. The past four years, since 2013, Marina has seen a remarkable spike in housing prices. Just as interesting is housing prices since 2000 are way up today despite the market crash in 2007.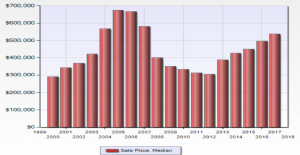 Marina Real Estate Prices Continue To Soar
As illustrated in the graphic above the median price of homes in Marina was $290,000 with steady growth the next three years up to 2003; where the median house price finished for the year at $421,750. 2005 is when prices started to really soar. In fact, the median sales price rose $145,750 in one year alone which represents a 25% increase. We are all too painfully aware of the occurrences that took place from 2004 to 2007. Median home prices hit an all time high in 2007 at $667,00 brought to us as a result of hype and predatory lending.
The good news is that starting in 2009 the markets stabilized and we were back on track. If you purchased your home in any year other than 2004 to 2007 you will have equity in your home based on your purchase price alone. And statistically the best time to buy after the market crash was 2011 and 2012.
Thinking About Selling Your Marina Home?
As of 2017 the median prices of homes sold in Marina is $537,000! This means now might be the perfect time to think about selling your home. The market is still strong but won't last forever. Interest rates are on the rise which impact negatively potential buyer's purchase power. If you are thinking of selling your home please also consider talking to a local, trusted realtor that lives and works in Marina. I can't emphasize enough the importance of working with a local real estate professional.
Steve Hunt can be reached for questions or comments regarding this article at steve.hunt@sothebyshomes.com or (831) 601-2200.
The following two tabs change content below.
Steve and his wife Julie moved to Marina in 1992 where they raised three children. Steve has been involved with Marina affairs since 1997 when he started coaching for Marina Pony Baseball/Softball and went on to serve as a board member. Today, Steve continues his involvement in Marina as a member of the Marina Chamber of Commerce; President Elect Marina Rotary; Marina Public Works Commissioner and Marina in Motion. Steve is also a co-founder and officer for Otter Bay Water Polo Foundation, a private 501(C)3 non-profit where he serves as CFO. Steve is a licensed Realtor who specializes in Marina Home Sales.
Latest posts by Steve Hunt (see all)