The Marina Chamber of Commerce is taking part in the Monterey Peninsula Chamber of Commerce 2019 Business Walk.
The Monterey Peninsula Chamber of Commerce, along with the Marina Chamber of Commerce, and the City of Seaside Economic will be conducting an annual "Business Walk" on Friday, November 8th 2-4pm. Chamber board members and ambassadors, CSUMB Business Students, City staff and officials and volunteers will be visiting businesses throughout Monterey, Seaside, and Marina, to learn more about our local businesses and how we can help them strengthen and promote their business.
The volunteers will spend 5-10 minutes asking several questions including, (1) "How's Business?" (2) "What do you like about doing business here?" and (3) "What can we do to help you succeed?"
Meeting with Marina's Business Owners
Business owners and managers are encouraged to be at their business the afternoon of November 8th when the Business Walk teams are out. By taking the time to answer just a few questions about your business climate, you will be providing valuable information that business stakeholders in our area can use in developing programs and services.
Business walks have proven highly effective in strengthening local economies by retaining businesses in a community and creating an environment where they can grow. Companies with specific needs will be followed up and provided one-on-one assistance. After the Business Walk, a summary of the results will be posted to the Marina Chamber and the Monterey Peninsula Chamber of Commerce's respective websites.
This will be the first time Marina participates in the Monterey Peninsula Chamber of Commerce's Business Walk. We are excited to get insight directly from small shops and understand how businesses are thriving, why, and if not, what should/could be done to help them!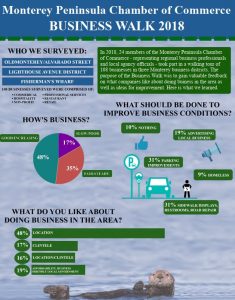 Seeking Volunteers
On
Friday November 8, between 1:30 pm and 4pm,
we will be canvassing 3 zones in Marina to gather local shop and store owners' experience and thoughts on how business is going for them.
This simple volunteer effort will take less than 3 hours, and
it will provide extremely important information that will later be compiled and presented to different local organizations (
cities, chambers, schools, non-profits, etc.) so we have a
screenshot of our city's vitality and challenges from a business standpoint
.
To help support local businesses, fill out this form and we'll be in touch with more details.
#meetmeinmarina
If you are on Instagram, be sure to follow us at our brand new Instagram account instagram.com/marina.chamber and be sure to use the hashtag #meetmeinmarina when posting anything about Marina.
We have added an Instagram feed to our homepage so that we can all celebrate all the wonderful things in this community together. In addition, it will help to share with the world, what we all love best about Marina.
The following two tabs change content below.
Elizabeth Plante
I'm a freshly immigrated Canadian passionate about both physical activity and the outdoors, and where's a better place to pursue those interests than alongside the Monterey Bay coastline? My company Monterey Bay Moves was influenced by my own Canadian experience of fitness, and I engineered our services to be close to the community and its surrounding nature. With Monterey Bay Moves it was never just about bringing a workout to those in need — it was also about developing a concept of unique outdoor training programs that would let us make the most of our unique area. I serve on the board of the Marina Chamber of Commerce as Vice-President and on the Monterey Peninsula Chamber of Commerce's Economic Vitality Committee.
Latest posts by Elizabeth Plante (see all)