Our First "First Friday Cash Lunch Mob"
Our very first Cash Lunch Mob event was a huge success. Thirteen of us met for lunch at Ho Wah Restaurant with cash in hand and "Marina Pride" in our hearts.
Our event was not formal, and we did not make any reservations other than a warning to Dezen Chan (restaurant owner), "be ready for a mob of cash paying customers this Friday." Dezen graciously offered free appetizers and desserts to all the Cash Lunch Mob participants, and they were delicious.
"We were very pleased with the Marina Chamber of Commerce coming to our restaurant for its first Friday Lunch Mob. They did a great job advertising the event on their website, Facebook and Instagram, giving us good visibility online. Thanks to them, our parking lot was full and we had several clients trying out our food for the first time. It was a great experience for our restaurant!" – Dezen Chan, Ho Wah Owner

What is the First Friday Cash Lunch Mob?
We call it the First Friday Cash Lunch Mob because once a month, we encourage as many people as possible, to hit up a local restaurant to show our support and pay with cash to help the owners save on credit card processing fee's.
"I am excited that the Chamber's new initiative was a success today. Marina is blessed with an incredibly diverse culinary offer. Let's put the spotlight on restaurants that serve fresh and delicious food! The Friday Lunch Mob is the perfect excuse to show off to your friends, family and business partners how great it is to work and live in Marina. We filled several tables today. We hope even more will show up next month #meetmeinmarina, haha!" – Elizabeth Plante, Monterey Bay Moves Owner & Marina Chamber of Commerce Vice President
Although we encourage everyone to pay cash whenever possible every day of the month, when we gather in a large crowd like this, it has certain advantages.
Socializing, networking, and making new friends.
Other customers get to see a packed house.
A full parking lot for passers-by to see.
It encourages awareness to some of our great hidden treasures, and popular local favorites.
If you have ever worked in the industry, you know how tough it can be for both the employees, and the employers. Getting into the restaurant business is not for the faint of heart.
Our local restaurants work hard to serve our community week in and week out and this is a nice way to say thank you.
"Thank you for arranging this experience. This was definitely a "win-win" situation; good for Ho Wah and good for hungry customers. Although we have been to Ho Wah many times it was a pleasure to meet friends there yesterday for lunch and support one of our favorite Marina restaurants. The food is delicious, the service is kind and prompt, and the dining room is very light and open and inviting. We enjoyed the delicious complimentary appetizer! I now have another favorite from their menu and will be ordering it next time we go! Again, thank you for organizing this opportunity to support this wonderful restaurant in Marina. Looking forward to the next lunch on April 5th at English Ales" – Elaine Turner

The First of Many New Monthly Events
The First Friday Cash Lunch Mob is just one of many ways we are working to help ensure business and community growth and development; and to develop civic, social, and cultural programs that will enhance the values of our community.
Lunch N Learn
In addition to the monthly Cash Lunch Mob events, we are bringing back the "Lunch N Learn" monthly lunch forums. We are in the process of confirming a location sponsor and we have a number of very talented people lined up to help us grow in the areas of business, management, sales, technology, fitness, health, financial management and more.
Mixers
This year we are planning more mixers as well. A mixer is a great opportunity for chamber members to invite other Marina professionals into their establishment for an hour of networking, socializing, and showing off their fabulous services/products.
On Thursday, March 7th, 2019, Marina Chamber of Commerce will be holding a volunteer mixer and recruitment event at the SpringHill Suites by Marriott,  215 10th St, Marina, CA 93933 from 4:00 pm to 7:00 pm.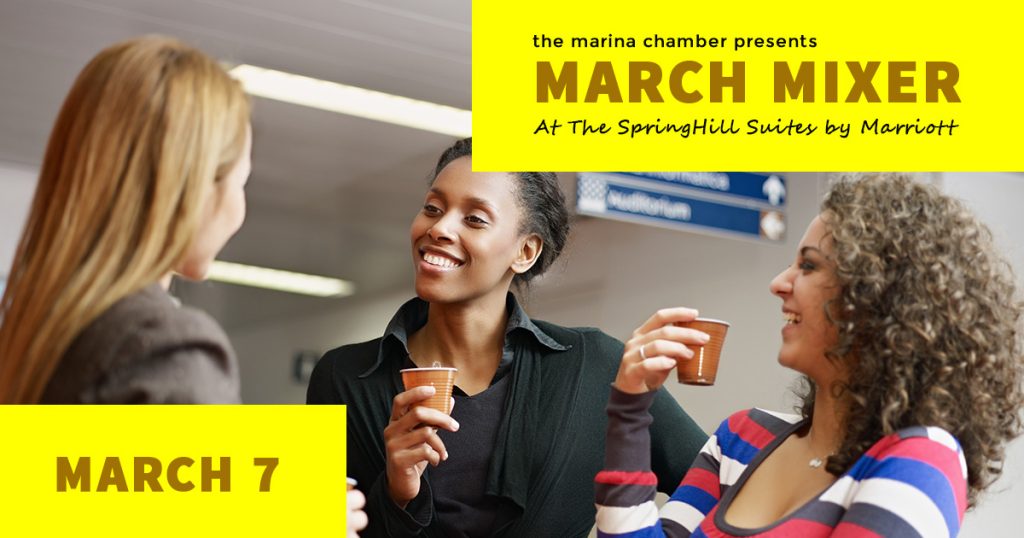 The event is open to the public and welcomes those in support of International Flavors of Marina 2019.  Volunteer opportunities include set-up, tear down, ticket booth, will-call, parking guides, silent auction station, and event attendants, to name a few. Connect with members of the community while getting a sneak preview of the event location.
Those interested in attending this event should RSVP to yadira.hobby@gmail.com. Small bites, light refreshments, and a no-host bar will be available during the event.
#meetmeinmarina
If you are on Instagram, be sure to follow us at our brand new Instagram account instagram.com/marina.chamber and be sure to use the hashtag #meetmeinmarina when posting anything about Marina.
We have added an Instagram feed to our homepage so that we can all celebrate all the wonderful things in this community together. In addition, it will help to share with the world, what we all love best about Marina.
In Closing
As the new President of the Marina Chamber of Commerce, I am very excited about helping our local community, chamber members, and economy flourish. Thank you for taking the time to read this article and for being a part of this amazing community we call home!
#meetmeinmarina 😉
The following two tabs change content below.
Geno is the Owner of Monterey Premier (Website, SEO & Digital Marketing Services), former Chair of the Marina Chamber of Commerce and Creator of the Marina Community Facebook Group currently at over 3.6K members. He is passionate about Jesus, family, and building community.
Latest posts by Geno Quiroz (see all)