Ho-Wah Authentic Chinese Restaurant in Marina.
Our family loves Chinese food and one of our favorite places in the entire Monterey Bay area is Ho-Wah here in Marina.
With dozens (if not hundreds) of great Chinese restaurants in the Monterey Bay area, it's not easy picking a top 10, nonetheless a favorite. But, after trying many over the last 10 years of living in the Monterey Bay area, Ho-Wah stands out in the crowd.
Always Fresh and Flavorful
The food is always fresh and flavorful. They don't use MSG and we really appreciate how the food is not overly sauced. In fact many of the to-go dishes come with the sauce placed in separate packages so that we can choose how much sauce to use and food does not get soggy in transit.
When eating inside the restaurant, the service is always super-friendly, and the meals are prepared very quickly. I appreciate that they bring out the dishes as soon as they are ready. Some restaurants wait until all the dishes are ready resulting in some dishes being cold or soggy within minutes of being served.
They have great deals on their lunch specials, which are very reasonably priced. They also do dinner with a bigger menu.
Our Favorite Dishes
Our favorites are the Beef Chow Mein, Orange Chicken, Egg Rolls, and the House Specialty Fried Rice. We like to add a few new dishes to try with each visit but we always start with these family favorites.
We also love their delivery service. It is usually delivered within 45 minutes but it is always warm, fresh and the dishes that are supposed to be crispy, are still crispy.
In Closing
These are my reasons for why this is one of my favorite restaurants. I plan to write up more reviews of some of our other favorite Chinese food restaurants in Marina because all of them have great food. But I just wanted to start with my top-choice.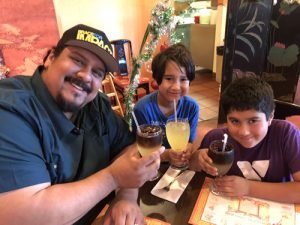 I hope you find this helpful when it comes time for your next dinner-out decision making.
Cheers,
Geno
The following two tabs change content below.
Geno is the Owner of Monterey Premier (Website & Digital Marketing Services), President/CEO of the Marina Chamber of Commerce and Creator of the Marina Community Facebook Group currently at over 2K members. He is passionate about Jesus, family, and building community.
Latest posts by Geno Quiroz (see all)