Short Description
The Marina Equestrian Center invites you to visit the Historic Fort Ord trails to learn how to ride a horse and enjoy the scenary. They have good prices so the whole family can join and programs for the little ones too!
Address
Corner of 5th & 9th Avenue
Marina, CA
93933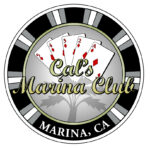 Short Description
Monterey Casino also known as the Marina Club Casino offers Texas Holdem Poker, Three Card Poker, Pai Gow Poker, Blackjack and ZooPac Baccarat.
Address
204 Carmel Avenue
Marina, CA 93933
93933