"The Marina Chamber of Commerce is assisting the Herald with gathering stories to appear in the upcoming Community Focus – Marina publication and encourages member businesses to participate through an ad purchase.  All members will receive a 10% discount!"  (Ad rates are included in the attached flier.)
Full and half page advertisers will also receive digital ad impressions to run throughout March on montereyherald.com Advertising Space; Reservation Deadline: Wednesday, March 13, 2019; Ad Deadline: Friday, March 15, 2019.
Business 101–Want Marina CA to 'shine'!  This is a great opportunity for promoting your business and raising profiles in Marina.  The more advertising space committed, the greater number of articles will be published!
Call Now: Rachel Martinez 831-261-9626 or email: rmartinez@montereyherald.com
Download the Community Focus Flier Rate Sheet here.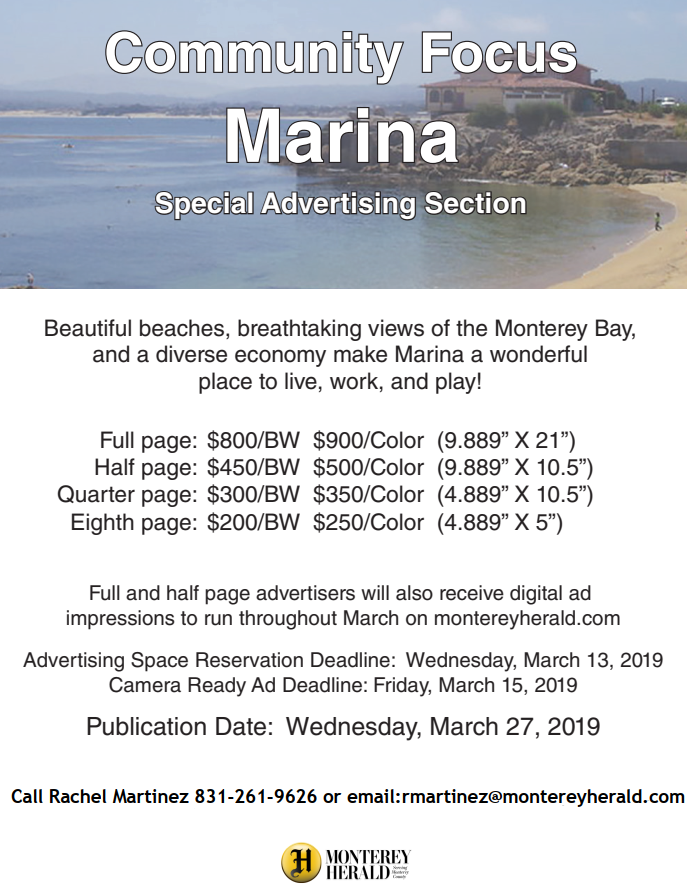 The following two tabs change content below.
Geno is the Owner of Monterey Premier (Website & Digital Marketing Services), President/CEO of the Marina Chamber of Commerce and Creator of the Marina Community Facebook Group currently at over 2K members. He is passionate about Jesus, family, and building community.
Latest posts by Geno Quiroz (see all)