November's Marina Cash Lunch Mob was at Michi Japanese Restaurant and once again, we had a great turnout.
Several of us met for lunch at Michi Japanese Restaurant with cash in hand and "Marina Pride" in our hearts. These lunch events have been so wonderful.
Our family has made many new friends because of these events. Even our two young boys enjoy the friends and fellowship that takes place.
In fact, we all used to sit at different tables but now that we are getting to know each other so well, we pull all the tables together like one big family. It is such a joy hanging out with the people who attend.
Building Community in Marina
One of my favorite things about these lunch events is how we are building community. We share so many stories about Marina from people who have been here for years, people who have only been here a short time, and even from people who used to live here and enjoy coming back into town to visit.
We share memories, recommendations, what's going on in the community, events that took place recently and how they turned out. There is always lot's of laughing, sharing and caring.
Many people have never tried the restaurants we choose and several business have gained new customers. We also help give the local businesses a little boost in cash just before the weekend. We have had up to 15+ people show up at times.
This was my first time at Michi Japanese Restaurant and it was because several people in the new Marina Community Facebook Group highly recommended this place. It was fantastic. Below are some pictures from the lunch.
About Michi Japanese Restaurant
Starting in 1984, owners Kyoji and Kiyoko Michioka established Michi Japanese Restaurant as the first Japanese restaurant in the city of Salinas. Family operated and known for its traditional style, Michi Restaurant has continued a strong tradition serving the community for over 30 years. Currently, Michi Restaurant resides in its Marina location.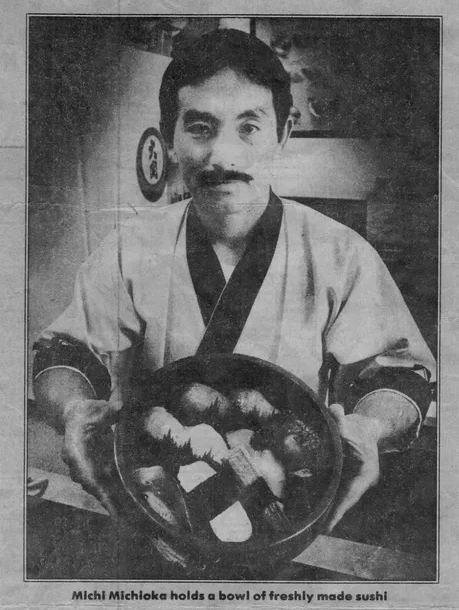 What is the First Friday Cash Lunch Mob?
We call it the First Friday Cash Lunch Mob because once a month, we encourage as many people as possible, to hit up a local restaurant to show our support and pay with cash to help the owners save on credit card processing fee's.
Although we encourage everyone to pay cash whenever possible every day of the month, when we gather in a large crowd like this, it has certain advantages.
Socializing, networking, and making new friends.
Other customers get to see a packed house.
A full parking lot for passers-by to see.
It encourages awareness to some of our great hidden treasures, and popular local favorites.
If you have ever worked in the industry, you know how tough it can be for both the employees, and the employers. Getting into the restaurant business is not for the faint of heart.
Our local restaurants work hard to serve our community week in and week out and this is a nice way to say thank you.
#meetmeinmarina
If you are on Instagram, be sure to follow us at our brand new Instagram account instagram.com/marina.chamber and be sure to use the hashtag #meetmeinmarina when posting anything about Marina.
We have added an Instagram feed to our homepage so that we can all celebrate all the wonderful things in this community together. In addition, it will help to share with the world, what we all love best about Marina.
The following two tabs change content below.
Geno is the Owner of Monterey Premier (Website, SEO & Digital Marketing Services), former Chair of the Marina Chamber of Commerce and Creator of the Marina Community Facebook Group currently at over 3.6K members. He is passionate about Jesus, family, and building community.
Latest posts by Geno Quiroz (see all)