Have you heard of Monterey Bay Moves? You might have passed them by on your evening walk in one of Marina's parks. They're that group of enthusiastic residents getting their workout in at Vince DiMaggio Park and they're going strong!
What is Outdoor Group Fitness?
Imagine a group class at the gym, but natural air conditioning (yay coastal breeze!), a beautiful park as a background, plenty of space to move and a motivating instructor. Monterey Bay Moves' classes are usually 45 minutes long and are adaptable to every fitness level. Small groups have been gathering almost daily at the park for classes ranging in intensity from Yoga to Metafit HIIT between 5:30 and 7:30pm.
Prices range from $155 for 1 class/week to $435 for unlimited access during the 10-week semester.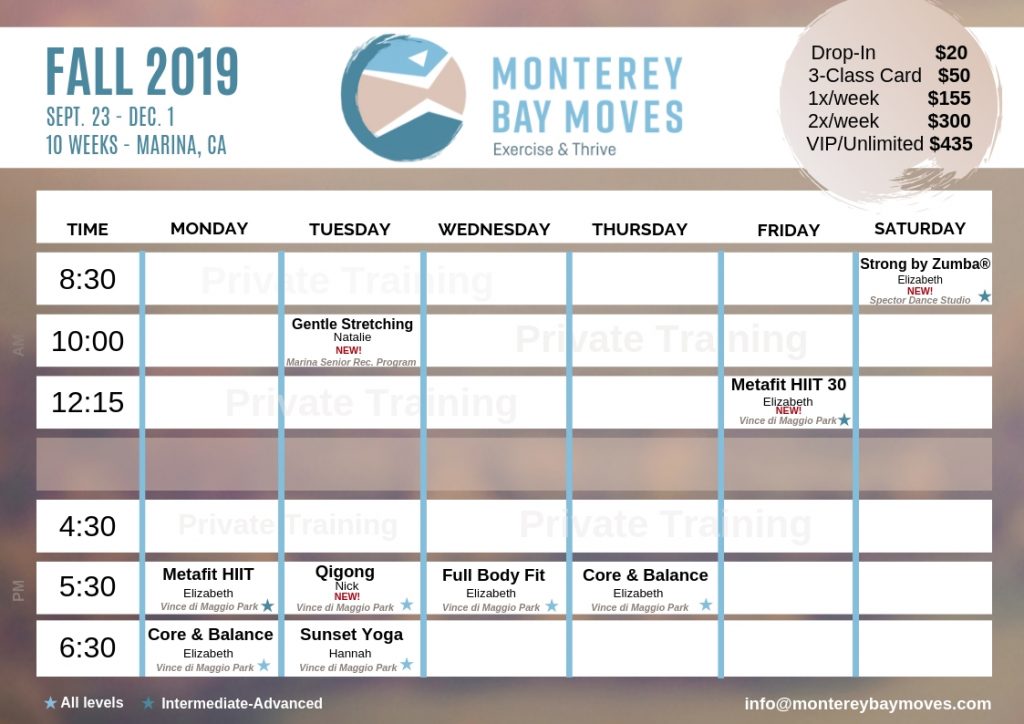 Here are a few pics from a few classes this Summer
Do you enjoy meeting new people, small group workouts, and/or want to improve your fitness?
Then this might be just for you. Monterey Bay Moves just opened their registration for their Fall semester, running for 10 weeks from September 23 to December 1st.
Classes are great for anyone interested in improving their health and fitness, but who are looking for a different experience than the traditional gym membership.
Why Outdoor Fitness?
Monterey Bay Moves Owner and Chamber Vice-President Elizabeth Plante thought outdoor classes would be a great service to offer in Marina, where activities for young professionals and adults who aren't yet retired are scarce:
I moved to Marina a little over a year ago, and I was surprised to see that there were so few things to do for people on week nights in Marina. You really have to drive to other cities in the Peninsula to participate in structured fitness or outdoor activities. Why not in Marina? Our city is growing and we have such beautiful parks here. With our beaches, city parks, Fort Ord Dunes State Park, and Fort Ord National Monument, there is potential for Marina to blaze the path and become the reference in terms of outdoor recreation.
A 2009 study in the "Journal of Park and Recreation Administration" found a correlation between access to outdoor recreational spaces and overweight, obesity and adults' physical activity levels. Formerly obese herself, Trainer Elizabeth Plante vows to dedicate her efforts to improving Marina's recreational offer through outdoor fitness classes :
In a place like the California Coast where the temperatures are mild year-round, there is no reason not to make the most of what Mother nature has to offer, especially if it means lowering the community's rates of obesity, high blood pressure, and heart disease!
The Perks of Working Out In Nature
There are major ways your health can benefit from enjoying the outdoors:
Burn More Calories and Fat!  Because you are in a changing environment, your body has to adapt to change in terrain, winds and temperature, making it work harder than it would in an indoor facility
Get A Vitamin D Boost! You can get vitamin D in the form of a supplement, but 10-30 minutes of exposure is just enough to get your daily dose
Take a Deep Breath! According to the EPA, the indoor concentrations of some pollutants have increased in recent decades.
Smile!  Many studies have shown that our moods take a positive shift when we spend time outside
Relax!  Spending time in nature has been shown to lower stress levels and being outdoors has been linked to lower heart rate and lower blood pressure.
Get more energy! According to research from the University of Rochester, 90% of people experience increased energy just by participating in outdoor activities.
On average, Americans spend 90% of their time indoors; it can be difficult to get your dose of Vitamin D and all the proven benefits of spending time outdoors when you go straight to the gym after work for your workout. That's why it's important to me that the majority of our classes are held outdoors, where you get to breathe fresh air and have fun with your community while getting a good workout in.
– Monterey Bay Moves Instructor and Owner Elizabeth Plante
Classes offered this Fall
Qi Gong – NEW! – Holistic body-posture movement, breathing and meditation
Metafit HIIT – Tough High Intensity Interval Training to rev up your metabolism and burn fat
Full Body Fit – Bootcamp style program for a complete cardio-strength workout
Sunset Yoga – Alleviate your stress and encourage more self-love
Core & Balance – Gain stability & increase your core strength
STRONG By Zumba – NEW! – High Intensity Tempo Training with the science of Synced Music Motivation (indoors)
As mentioned earlier, these classes are really a lot of fun and will leave you feeling energized and proud of your efforts.
Monterey Bay Moves is all about inclusive fitness and getting you from where you are in your journey to the next level. You don't need to already be fit in order to join these classes.
Come as you are!
Click here to check out all the details about the Group Fitness Classes at Vince DiMaggio this Fall on Monterey Bay Moves' website.
For more information on their upcoming semester, message them on Facebook, IG or email them at info@montereybaymoves.com
The following two tabs change content below.
Community Post
This post was submitted by a member of our community.
Latest posts by Community Post (see all)