Monterey Bay Moves Summer Semester Is Back With A Wider Variety of Fitness Classes
Monterey Bay Moves, Marina's own personal training and group training fitness business, is happy to announce its Spring Bootcamp is now transforming into a variety of Group Fitness Classes for participants of all levels.
With several community members registered – and currently crushing their health goals, Monterey Bay Moves' bootcamp is changing to offer different class styles on a semester basis. Marina Chamber of Commerce Vice President and Monterey Bay Moves owner Elizabeth Plante explains how the decision was made:
"We had a very successful 1-month trial bootcamp in March which lead to our 10-week Spring bootcamp. Since then, participants have been extremely pleased with the classes and their results, but there has been increasing demand for HIIT, yoga and low-impact classes. Many people told me they took yoga classes in Monterey or Pacific Grove, but didn't quite enjoy having to drive an extra 15 minutes to get there. As a new Marina resident, I want to see this city shine! I believe we should invest time and efforts into developing the city's image as an active and thriving destination for tourists and locals. Let's make Marina THE best place in the peninsula to live, work and have an active lifestyle!"
As a testimony to Monterey Bay Moves' success, Spring Bootcamp participant and Marina resident Miya shares her experience training with Elizabeth:
"The environment that Elizabeth has created and fostered is just what I needed. Everyone in the group training is supportive regardless of skill level. I feel encouraged when before I would feel defeated. The routines have not yet been the same which keeps every workout interesting and a challenge. I feel her passion for fitness and want to return that energy in kind… which is saying something as I do not particularly enjoy exercise!"
For the local Marina business owner , offering more classes also meant hiring the best instructors to lead inspiring classes:
"I have been singlehandedly training Monterey Bay Moves' clients for a few months. They are now my friends, my family. When came the time of hiring, I needed to find the absolute best people to push our participants and take good care of them. For this reason, I brought in Natalie, who will be offering a gentle yoga and stretching class on Fridays at Spector Dance Studio. Her experience as a certified laughing yoga leader and licensed vocational nurse will be valuable to our clients seeking a low-impact yet effective method to improve their health and well being. Hannah will be giving a super inspiring sunset yoga class on Tuesdays at the park. Her warm energy and well-guided vinyasa flows will bring energy, flexibility and strength to her students. This is super exciting! "
Registrations for the 8-week Summer semester have already started. Group classes start on July 8 and end August 31. Package choices allow participants to attend 1 or 2 weekly classes or have access to all the classes on scheduled for the price of 3.
Classes offered include: Metafit HIIT, Core & Balance, Sunset Yoga, Gentle Yoga, Run/Walk and Full Body Fit
Registration Options
Drop-In $20
Monterey Bay Fun – 1 class/week $128
Monterey Bay Fit – 2 classes/week $256
Monterey Bay Tribe – Unlimited $384
See Facebook page for full class descriptions
Mind and Body Balanced
Because health and fitness is about so much more than doing push ups, running sprints and dieting, Monterey Bay Moves' classes feature mindfulness moments to help make the changes in participants' lifestyle stick. The inspiring mindfulness tips and practices not only benefit participants during their workout, but extend to their everyday lives:
" I have been doing the Spring Bootcamp classes twice a week for 8 weeks and loving it! Elizabeth puts thought and effort in to give a variety of exercises. She is very motivating and I'm learning lots about health and fitness. All classes begin and end with a mindfulness moment to ground ourselves, which I also enjoy. I feel and see great improvements in my stamina and strength!"  – Martha, Marina Resident
Schedule & Location
All of their classes are held outdoors at Locke-Paddon Park (behind the Marina Library) to allow residents to connect with nature and add some sunshine – or fog! – in their busy day (with the exception of a few classes held at Spector Dance Studio on Thursdays, Fridays and Saturdays). Each class is designed to be inclusive and allow multiple regression and progression options to suit participants' level.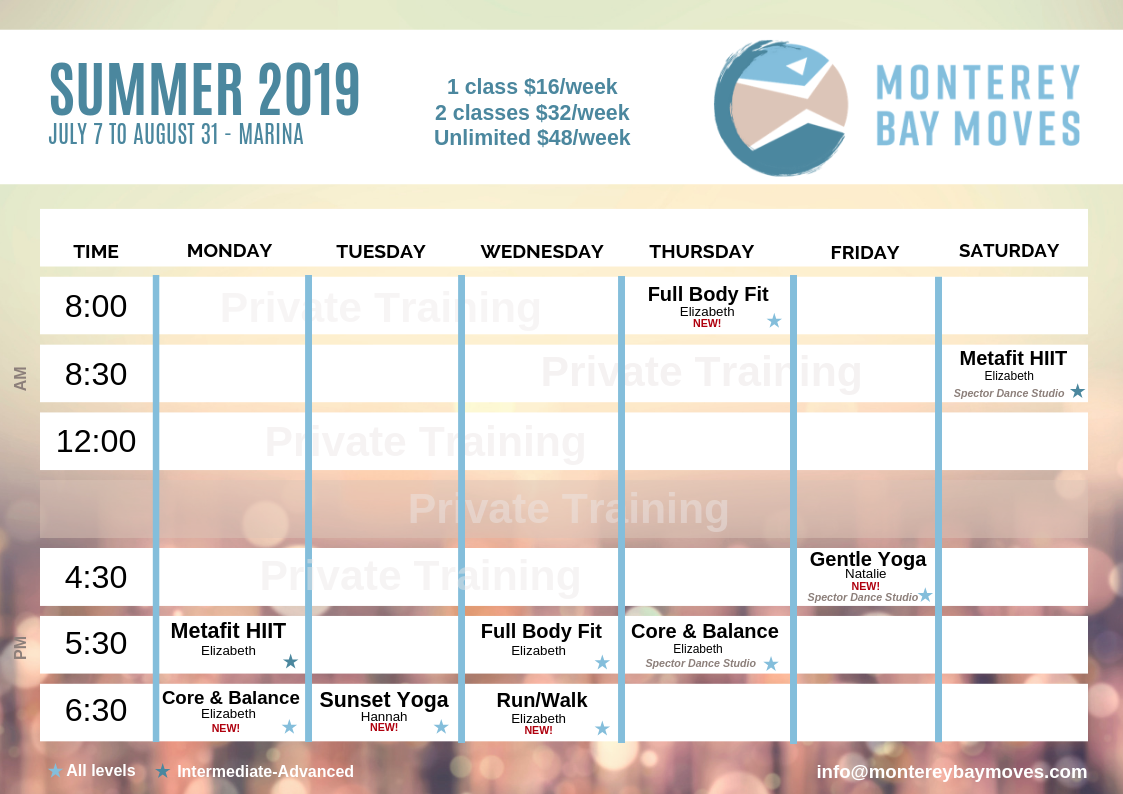 No equipment is needed, participants may bring their own exercise mat or purchase a 6-mm Deluxe Monterey Bay Moves mat for $30.
---
About Monterey Bay Moves Owner Elizabeth Plante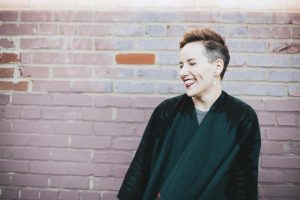 Head Trainer and Owner Elizabeth Plante moved to Marina in 2018 and joined the Chamber of Commerce in 2019. She is an American College of Sports Medicine Certified Personal Trainer, Group Exercise Instructor and triathlon enthusiast. Her weight loss transformation and lifestyle overhaul is nothing short of inspirational. Elizabeth's training style is both tough and cheerful. She educates participants and pushes them you reach their full potential. What she loves most is seeing people realize how much more they're capable of with proper guidance.
The following two tabs change content below.
Elizabeth Plante
I'm a freshly immigrated Canadian passionate about both physical activity and the outdoors, and where's a better place to pursue those interests than alongside the Monterey Bay coastline? My company Monterey Bay Moves was influenced by my own Canadian experience of fitness, and I engineered our services to be close to the community and its surrounding nature. With Monterey Bay Moves it was never just about bringing a workout to those in need — it was also about developing a concept of unique outdoor training programs that would let us make the most of our unique area. I serve on the board of the Marina Chamber of Commerce as Vice-President and on the Monterey Peninsula Chamber of Commerce's Economic Vitality Committee.
Latest posts by Elizabeth Plante (see all)