In this new series, we'll highlight what makes Marina great: the people and places of our community. This week's feature, Monterey Bay Moves, provides small group fitness classes in Marina and the Monterey Bay. Check back for updates from around town.

Spotlight on Marina: Monterey Bay Moves
On a chilly winter evening at Gloria Jean Tate Park, two groups gathered:
Middle school girls clad with softball mitts and ponytails, and
A cluster of adults in workout gear led by a fiercely positive trainer.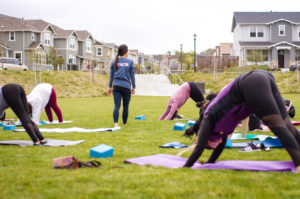 As the softball players started warming up, one of the workout moms sighed dramatically and laid on the ground in a pretend collapse. She was rousted by a laughing Elizabeth Plante, head coach with Monterey Bay Moves.
Monterey Bay Moves is a Marina-based outdoor mobile fitness service. The outdoor class at Gloria Jean Tate is a hallmark of the organization's fun small group fitness classes, currently held at the Century Marina Theater's green space. Head coach Elizabeth Plante went through her own physical transformation and realized her true passion and energy came from her weekly runs with friends, organized group training, and swim sessions at a local pool. After relocating to Marina from her native Canada, Elizabeth decided it was time to launch her dream business. She explains, "my ultimate goal is to get you, the Monterey Bay residents, to be healthy, active, and thrive on your journey through this life."
Her dream is coming true: Monterey Bay Moves' clients have made major positive changes, even through the pandemic. MBM client Justine explains, "MBM has been so great for my physical and mental health. The workouts are mainly outside, and I think that is what I love most about them. I am inside all day every day and it feels so good to break a sweat in the fresh air."
She continues: "Elizabeth is what also makes MBM so great because she makes a big effort to create a community among us. She checks up on us, creates special challenges to keep us motivated, and has made a big effort to keep us safe during our workouts with all that 2020 has thrown at us. A lot of us have made friends within the group and MBM has been such a positive part of this year for me."
For visitors: Monterey Bay Moves offers drop-in classes around Marina with 3 to 10 class pack options. A yoga class is also offered every weekend at the Sanctuary Beach Resort for resort guests. Check out https://www.montereybaymoves.com/ for class packs and schedules.
For residents: Beyond the class pack options, MBM has unlimited monthly class memberships and personal training options. Try out the options with a 3 Class Discovery Pass. Book online at https://www.montereybaymoves.com/.
Winter 2020 Note: MBM's class schedule will be hybrid for Winter 2020-21; higher intensity resistance training classes are held outdoors while classes like yoga are online for better comfort.
The following two tabs change content below.
Katelyn Jackson
Katelyn is a Marina-newbie exploring everything that makes this place great. She's a mom, partner, occasional runner, donut-lover, and the Director of Operations & Marketing for a national health-focused nonprofit.
Latest posts by Katelyn Jackson (see all)