As diners and restaurants go, Daddy's City Diner is a standout from the crowd of eateries in Marina.
With its family style dining and self – serve seating combine to create an atmosphere that is inviting and welcoming to the first time visitor.  The diner menu has a great variety of items for breakfast or dinner. The diner's price and quality ingredients are a welcome part of your day.
City Diner has great food at reasonable prices and they also have good customer service.  The unhurried pace of service never puts the customer in a rush.  While the diner can be busy, this kind of pace is very calming and allows customers to enjoy their meals.  The fare that is served is wholesome and good-tasting.  Customer service is "if we get it wrong, we will fix it."
When you visit Daddy's City diner, be sure to get to know the friendly staff and enjoy the food that they prepare with care for you.  When you've gone to Daddy's City diner for a time, you become like family.  VIsit them today – you will be glad you did.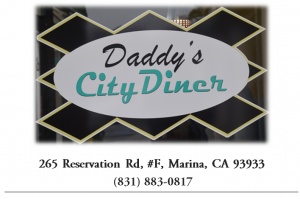 What people are saying on Yelp.com:
"Daddy's passed with flying colors and even got extra points for unexpected treats such as the option of grits instead of potatoes (and they prepare them exactly the way I love them–thick, not wet, and steaming hot so the butter melts quickly), very tasty country sausage with the perfect ratio of seasoning and remarkably delicious biscuits and gravy.  All the food was served hot and delivered to the table without delay by an excellent server–friendly and cute who thought of everything we might need including iced tea refills without us asking and never made us feel rushed.   Without a doubt we will be back!"
"Great breakfast! Finally tried Daddy's diner this morning. The pan crepe meal was delicious. Three banana crepes with homemade whipped cream on top it was divine. Eggs and bacon on the side. Tried the biscuits and gravy also really flavorful. Definitely recommend for breakfast. Will try lunch another day for sure."
Visit their Yelp Site | Visit their Facebook Site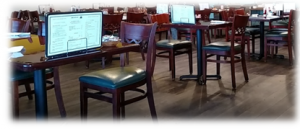 The following two tabs change content below.
A Marina native for 8 years and a Tri County native for 15 years. We love the city and what we have to offer. I graduated with a doctorate in organizational psychology, love to teach. I also love to volunteer by helping those who need what I have to give. I am expert in MS Word, Excel and Power Point. I have expertise creating core class content. I have also been a computer nerd and builder since about 1977. Questions? Just ask. I also love creating jewelry with semi-precious stones like Amethyst.
Latest posts by Tim Haupt (see all)